The Yosemite Firefall is one of the highlights of winter photography in Yosemite Valley. But if you want to photograph the Yosemite Firefall, there are some important things you need to know. Listed below are six important Yosemite Firefall photography tips.
How to Photograph Yosemite's Firefall
1. Time it Right
The Firefall only occurs at sunset in mid- to late-February. During that time, the setting sun hits Yosemite Valley at just the right angle to illuminate the upper reaches of Horsetail Fall. Feb 17-19 is generally considered the "peak," but the Firefall can light up nicely 6-7 days before or 3-4 days after the peak.
2. Check Snow or Rain Conditions
Horsetail Fall only drains a 30-acre area lying between 6,200 and 7,600 feet. If there is not enough melting snow or recent rainfall, there will not be enough runoff to feed the waterfall. And if Horsetail Fall is not flowing, the Firefall will not happen. Badger Pass Ski Area, which is located at roughly the same elevation as the Horsetail Fall drainage, often lists snow conditions here.
3. Watch the Weather
If it's raining, snowing or even just cloudy at sunset, the sun's rays will not illuminate Horsetail Fall.
4. Arrive Early to Find the Perfect Spot
Horsetail Fall tumbles down the eastern face of El Capitan, and it's visible from several viewpoints along Northside Drive, Southside Drive, and the Merced River. Spend the morning or early afternoon scouting out different locations, and decide which spot suits you best. Then in the mid- to late-afternoon, claim your spot. Many viewpoints fill up with dozens of photographers by sunset, and it's first-come, first-served. My strategy has always been to arrive early with a chair, a book and a bottle of wine.
5. Bring a Long Lens
The top of Horsetail Fall is located over 2,000 feet above the floor of Yosemite Valley. No matter what viewpoint you choose, you'll need a long lens to frame a tight crop of the Firefall.
6. Use a Tripod
This is always good advice, but it's particularly important for the Firefall, which occurs in low light and generally requires a long lens. A sturdy tripod will stabilize your camera, reducing image blur and resulting in crisp, sharp images.
Follow these Yosemite Firefall photography tips, and hopefully you'll get the perfect shot!
---
Yosemite Firefall Photos for Sale
Email james@jameskaiser.com for image and pricing info.

---
Plan the Perfect Trip to Yosemite!
Order Yosemite: The Complete Guide
The bestselling Yosemite guidebook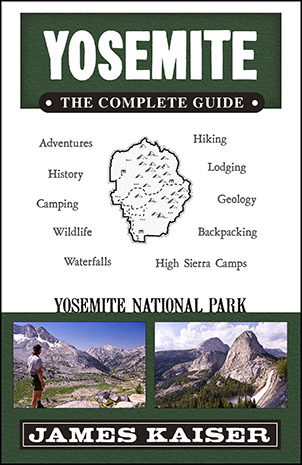 "Such a great resource for our trip to Yosemite! The guide is very easy to navigate, the info is invaluable, the maps are awesome and the photos are just breathtaking!"
—Surfette
"This book is golden: comprehensive, crisp maps & photos, and a ton of useful information." —Dr. Mike